Tallman West Falls is a Ribbon Falls that experiences its strongest flow during peak storm events and the seasonal snow melt. Its height is 5 metres (16 feet) and its width is 1 metre (3 feet).
History
Tallman West Falls was "discovered" in 2005 by Joe Hollick, who called it Shed Falls at that time after the shed-like structure above the waterfall. When it was learned that the Tallman family has owned this land since the 19th century (1800's), the name was changed.
How to get there
Attached is a map showing this waterfall and others in the area.
Tallman West Falls is located on the south side of the railway tracks about half way between Dewitt Rd. and McNeilly Rd. Again trains do use this track, thus if you plan to visit this waterfall be extremely careful of trains. This is private property!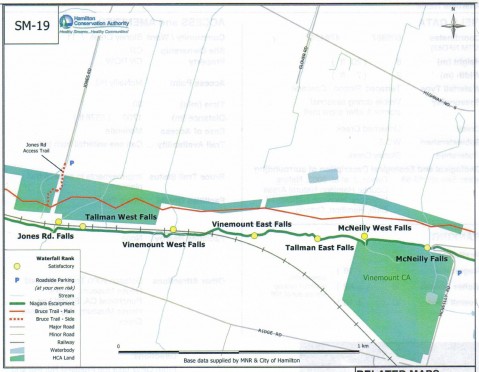 Tallman West Falls Photo Gallery