Stephanie Falls is located on Tiffany Creek above Washboard Falls. It is a Complex Classic Cascade with water flowing over it year round. It measures 9 metres (30 feet) in height and 6 metres (20 feet) in crest width.
History
There is a vintage postcard dated 1928 which shows Stephanie Falls but calls it Tiffany Falls (as it is one of three waterfalls on Tiffany Creek). A copy of the postcard is posted below.
Stephanie Falls is located on private property adjacent to the Tamahac Club property at 180 Filman Rd. in Ancaster. The adjoining property owner, a developer, has made it clear that he does not want public access to this waterfall.
Stephanie Falls is a spectacular waterfall! Hopefully it will be open to the public in the future.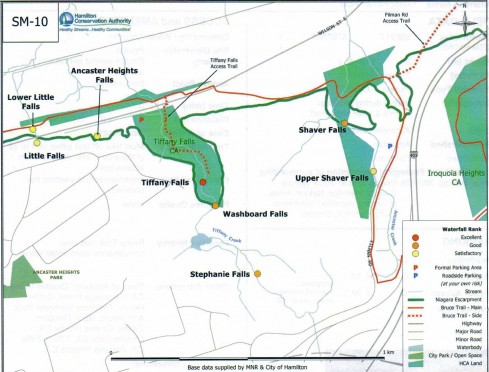 Stephanie Falls Photo Gallery