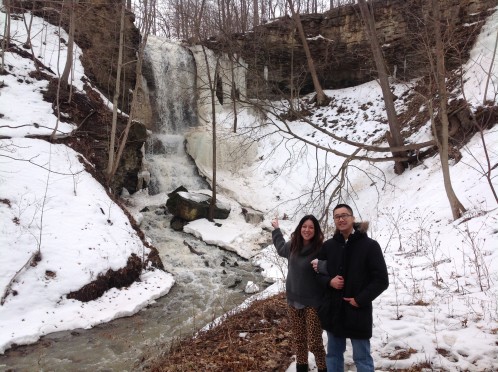 Billy Green Falls is alternately known as Battlefield Falls, as it is located on Battlefield Creek. Considered a Complex Ribbon Falls, its height is 17 metres (56 feet) and its crest width is 6 metres (20 feet).
History
Billy Green Falls is named after Billy Green, the scout in the Battle of Stoney Creek (1813), an epic conflict during the famous war of 1812-14.
William Green was born on February 4, 1794, in Saltfleet Township. His father, Adam Green, a New Jersey Loyalist, fought in the American Revolution and moved to Canada after the war ended. Green received a grant of 300 acres near the top of the escarpment and built a flour mill. Green and his wife Martha had eleven children in total, of which Billy was the youngest. Billy, a lover of the outdoors and an adventurous woodsman, was also known as the first white child born in the area.
During the war of 1812, Billy and his brother Levi scouted the approach of American troops. He learned the American password ("Wil-Hen-Har) from his brother-in-law, who had been imprisoned by the American forces, and took this information to the British troops at Burlington Heights. Due to his intimate knowledge of the local terrain, Billy led the British soldiers during their three hour march to meet the enemy forces at their encampment in Stoney Creek. A battle ensued, with the British emerging as the victors.
In 1875, at the age of 81, Billy Green was awarded a pension for his service. He died two years later, in 1877, and a memorial stone was erected in his honour.
How to get there
Billy Green Falls is located on the west side of Centennial Parkway at the second ravine on the right side when driving up the Niagara Escarpment. It can be seen from the roadway and is one waterfall that is viewed by many, yet most of them have no idea as to its name. Parking is available on the shoulder.
Billy Green Falls Photo Gallery
Photos Of The Different Seasons At Billy Green By LA Mabo